Hilda Jex, 1905 - 2007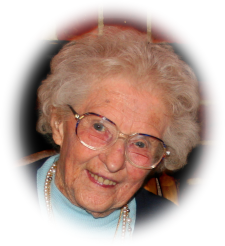 Mary Hilda Jex passed away quietly on the 26th September 2007, at a grand young age of 101.
She was a most amazing person.
Like many others, Hilda was my ultimate inspiration, and I am proud to be able to call her my Granny and my friend. Gentle, selfless, knowing, tolerant, wise. (Not to mention a dab hand at Scrabble.)
As a mother to Hilary and Carol, grandmother to Helen and myself, and great-grandmother to Jex and Evanora, Hilda was always at the heart of the family. Despite her age, she always actively participated in every occasion, loyally followed every one of our lives, and acted as a moral and spiritual compass to us all.
For her hundreds of dear friends and neighbours, she was a marvel. And surely lit up Carlisle social circles until the very end.
I find it hard alone to do justice to Hilda and her life, which was so much defined by her relationships with others. Each and every one of our fond memories, thoughts and stories - together - will surely describe the rich tapestry of her life far better than my humble tribute alone ever will.
I also suspect that is the way she will want to be remembered.
James Pearce
26th September 2007
---
Also on this site are the poem "Farewell My Friends" and John Pearce's Tribute from Hilda's Funeral.
---
Tributes
Hazel Graham D.N.
Hilda Jex was the most amazing lady I have ever met. As well as a patient of mine she also became a very good friend to me and my district nursing team, always cheery and interested in our families. We had many laughs and stories to share with her. It was a pleasure to look after her. This year has been a hard one for Hilda, she really had a rough ride; but as always she bounced back until this week. During our daily visits to her throughout the summer, we had to take turns because we all wanted to go to our favourite patient; it was during the summer that we saw what a truly wonderful family Hilda had, Carol and Hillary and John were just marvelous, Hilda was so very proud all her family. We want to keep in touch with you all and remember all the good times that we shared with you and Hilda; thank you so much for inviting us into your home and family. She will always be remembered Hazel, Lisa Linsey, Wendy and Maureen
Carol Pearce
People will say that my mother was proud of her family. Yes, but actually, I was even more proud of her… proud of the lovely home and stable family environment she provided; proud of the way she could organise things - like our annual 6-week camping holiday around Europe; proud of her courage after my father died (in 1976) and the way she built a new life for herself; proud of the generous person she was: her gifts of friendship and empathy; her lively interest in people, places, things and ideas; her capacity for care, compassion and love. I'm proud of the way other people admired her, loved her and responded to her. Finally, during these past few months I have felt privileged and proud to be able to share in caring for her. Despite pain and weariness, she never complained but remained positive, mentally active and forward-looking. She never lost her concern for others - their lives were always more important and more interesting than her own situation. What a wonderful person to have had as a mother! I'm so proud of her.
Lizzie Buck
I will really miss our Granny Hilda. While not strictly our granny, her continued generosity of love, spirit and genuine interest in our family more than qualified her. When our beloved granny Cecile passed (she lived next door), Hilda filled the shoes Cecile left behind and a very special place in my heart. She will be forever remembered but sorely missed.
Lisa Main
What an honour it has been to nurse such a remarkable, warm and interesting lady. We have shared many laughs together and had some wonderful conversations over the years. I smile now as I remember a ninety something yr old asking me how to book a easy jet flight to London on the internet! and then I feel sad as I know how sore her knees were and yet she strived for her independence. We all loved and admired how much Mrs Jex savoured life and how she showed so much interest in all of our lives, a visit to her home left you feeling inspired. We are all going to really miss our lovely, special patient and friend.
Rowena Buck
I first really came to know Hilda when her dear friend, my Mum in law, Cecile died and we became neighbours. Hilda had a real gift of encouragement. Kind, unselfish, generous with her words, you came away from seeing her feeling inspired and special. So few have this gift. Her spirited good humour shone through her twinkling gaze, and we had many a laugh together. She loved a bit of fun. I feel privileged to have known and loved such a remarkable lady, and blessed that she loved me too. I shall always miss my darling wise friend.
Andrew Buck
My parents Robin and Cecile, together with Carl and Hilda, moved into their new houses almost next door to each other in Longlands Road shortly before World War 2 and became close friends. My parents moved but never left the road, Hilda never left her house of which she was rightly so proud. The friendship never changed, just improved. So Hilda has known me all my life - and a little bit longer. A wonderful constant true friend whose love of life got stronger as the years went by, an example to us all, and a brilliant Honorary Granny to our own children. If anyone can make old age seem something to look forwards to it was her. A life to celebrate, and a personality to nurture in our memories. Thank you for those memories.
Mary and Derek Akehurst
We came to Carlisle as "incomers from the south" and somehow my nearly housebound Mother, Mollie, made friends with Hilda. When Derek's Mother, Doris, moved north the twosome became a threesome. Mollie's health gradually deteriorated and Hilda's friendship was a wonderful help for her…she visited regularly bringing warm smiles and cheerful conversation. Sadly we lost both mothers, but Hilda was there. She has given us love, friendship, and a very special warmth, also her wisdom in many matters. We have wonderful memories of times shared with this very special lady…we are proud that we have shared so much with her. As another friend said, a light has truly gone out of our lives. Lastly, a story Hilda loved to tell. The day she was born the Doctor took one look at her and said, "Get the Minister, this child must be baptised, she may not last the day"……She didn't do too badly for a sickly infant did she?
Bill & Diane Fitt
We are the parents of James Fitt husband of Claire White. Whilst we had only met Auntie Hilda twice, the first time in May 2000 at their wedding and the second time at Graham White's funeral last year we found her such a warm and inviting person, so thrilled to be part of whatever celebration it was. We had heard so many loving comments passed about her by Ros White and our daughter in law Claire that we felt that we knew her before we even met her. She was the kind of lady that should never pass away, some people (very few0 are like that because the whole world is worse off because of their passing. We send our warmest condolences to all of her family.
Diana
Hilda came to tea with me when she was only 100. I was expecting an elderly lady. Frail too, probably. But no-one of that description turned up. She certainly had the wow factor!
Pam Wight
I visited Hilda along with my husband Alan just a month ago,while on a short visit to my brother Andrew & sister in law Rowena.Hilda was in great spirit and her mind was clear remembering the names of our children & grandchildren. Hilda had a lovely personality,a strong faith,a sharp intellect & lots of commonsense.She was a true friend & neighbour to my dear mum & all her family & many friends meant so much to her. I have many happy memories & lovely letters she sent at Christmas which I will treasure now. I hope to continue seeing the family from time to time. I hope they will come up & see me sometime in Edinburgh. Pam Wight
Bronwen Maxwell
I have lots of fond memories of my Auntie Hilda. Starting with visits as a child, there was always a warm welcome from both Hilda and Carl at the end of a long journey from Birmingham (there was no M6 over Shap in those days!). Visits were filled with trips to the countryside and the coast and I was assigned 'monitor' duties by Hilda. (I think this was one of her tried and trusted teaching techniques for keeping young children in order!). Through the years Auntie Hilda has always kept in touch and even more importantly has been so positive about what I and my children Emma and Andrew have done. Hilda has through her life shown us that interest in, concern for, and belief in others makes such a difference - we will miss a very special lady.
Harold Fothergill
My first memories of Aunt Hilda were from the times when she came to stay at Town Head Farm,Brough Sowerby,Westmorland in the late twenties and early thirties.She used to enjoy a few days on the farm and we all enjoyed having her there. I also remember her travelling from Carlisle to Kirkby Stephen for the Tournament of Song two years running to support me when I was taking part.That would be probably be 1936 and 1937. In later years following my marriage to Joyce we always tried to visit Longlands Road when we were in the North The welcome was always warm and never varied.She certainly was a remarkable lady and will be sorely missed by all who were priveleged to know her.
Kevin C White
Aunt Hilda was simply amazing. She was my maternal Grandmother's Sister and has been an enormous influence in my life and will be fondly remembered. I currently serve as Pastor in a small rural Wesleyan church in Maryland in the USA. I have absolutely no doubt that I am in that position because of the faith, love, prayers and support of two very godly people - Aunt Hilda and Grandma. Aunt Hilda always had a smile and a hug and always wanted to be deeply and passionately involved in my life - through the large and small things. Aunt Hilda, I love you and miss you and eagerly await the day I will meet up with you again. "For I know the plans I have for you declares the Lord. Plans to give you a hope and a future. Plans to prosper you and not to harm you." Jeremiah 29:11
Hilary Lawrence
I have lost my very best friend and support. I shall miss my mother greatly. Of course I concur with all the sentiments expressed above and in the lovely messages that have been sent to us from many people.
Mary Jex Jolley
I have never met Hilda, however I am well acquainted with and love both of her lovely daughters. If their mother was as delightful, conversant and dedicated as her daughters I am sure she was a person to be enjoyed and remembered. A chance meeting with dear Hilary over thirty years ago resulted in a lovely exchange of letters. We loved her detailed and informative reports regarding her trips and travels with her mother as well as news about her music, country and family. Our lives were enriched when we enjoyed her visits, if her adventures encouraged a return the to our beautiful,colorful National Parks in the Western United Staes. Who would have thought that delightful chance encounter so many years ago would have resulted in such a pleasant relationship? Our association with Hilary resulted in a visit with Carol at the time her employment brought her to our USA city. Our daughters joined us in a lovely (brief) afternoon of visiting, picture taking and getting to know and appreciate a delightful new cousin. The wonders of internet postings have brought further ties with very distantly related relatives. We have learned to truly love and admire Hilary, Carol and their dear family. Thank you Hilda for two sweet and outstanding daughters and their families to brighten our lives. Affectionately, Mary Jex Jolley and family
Martin Ewin
Aunty Hilda. What an inspiration you have been to so many people during your long life. You have always made me and my family so welcome during out many visits to your home. I always felt that you were always interested in me and always appreciated and took notice of all the wise advice you gave to me. I am not sure who will fill this void in the future. Will miss you loads. Martin
Dorothy Baty
A kind and gentle woman who we will miss but never forget. Thoughtful and considerate, you were a wonderful friend and neighbour. Sleep peacefully Dorothy, David, David & Lisa
Dorothy Ewin
I am so proud to have had Hilda as both a relative and a very dear friend. She took a special interest in everything that happened on the farm, and in what our 3 sons were doing at School and in their careers. Words cannot express our admiration for Hilda who was a very "Special Lady" in our lives. We will never forget her.
Jane Pearce and family
Hilda was my husbands fathers brothers wifes mother!! and this is important.I met Hilda several times as did my 4 children.Although we were fairly distant relatives, her interest in what we were up to in our lives was very keen. I hope I will always remember how important children are….how to respect them and value them. Hilda had a gift for doing just that and I really think in these times we should all be doing more of it. She went to the children in a very gentle and lovely way and they loved it… never expected them or waited for them to go to her. Hilda had a wonderful way of making people near her feel at ease and special.I am truly glad that she touched our lives.We were all very proud to know such a person. from Jane Andrew Jael Aoife Zachary India Pearce
John Rucklidge
My mother, née Marjorie Miles, until her death in 1992, was a lifelong friend of Hilda Jex. They were both enthusiastic members of the Old Girls Guild of the Carlisle and County High School for Girls. Through this connection I enjoyed the hospitality and friendship of the Jex family when I was growing up in Carlisle. Hilda loved playing cards and when Canasta became popular in the 1950s, our families enjoyed many games together. As a teenage boy, I thought Hilda was the kindest person I had ever known, and am delighted to learn she went on to have such a long and interesting life. The unique brand of physics instilled in me by Carl Jex has provided a sound base for my scientific career. I am glad I discovered this website where I can offer this tribute to Hilda and all the Jex family.
Helen Pearce
Reading through all the tributes to my grandmother, I realise just how many lives she has touched. She was a truly amazing person, and I shall miss her, but I have so many fond memories she shall live on in my heart. I thought I would share just a few of those which are special to me: I remember her sitting in our dining room at home patiently teaching me to write & spell (and correcting my grammar!); I remember her combing my hair, and enjoying the challenges of plaiting it in all sorts of weird and wonderful ways; I remember arriving at 21 LR to a huge hug, soup and toasted garlic sandwiches (yum!); I remember her excitement at the arrival of her great-grandchildren; I remember being inspired by her determination to live out her life at 21LR, and not being afraid to make changes to her cherished home in order to live the life she wanted; I remember being awestruck at the number of family and friends who wanted to celebrate her 100th birthday with her; I remember feeling jealous (but in a proud way) that her social life was livelier than mine! I remember my surprise when, after she passed away, I learnt just how much she had achieved in her younger years that I was previously unaware of. She was a star even then, but was so selfless that she was more interested in the achievements of everyone else; I remember all the love she gave me, standing by me through good times and bad, and knowing that she was proud of me too; I will always be proud to call her my grandmother.
Laura and Hazel Thomlinson
Hilda was one of the ladies who lunched! As a member of a wonderful group of ladies who met up from time to time to have lunch together in North Cumbria, she was always so enthusiastic and contributed much to the gatherings with her great flair and imagination. Hilda will mostly be remembered by Mum and myself for her delightful intelligence and for her neighbourly kindness and hospitality.
---